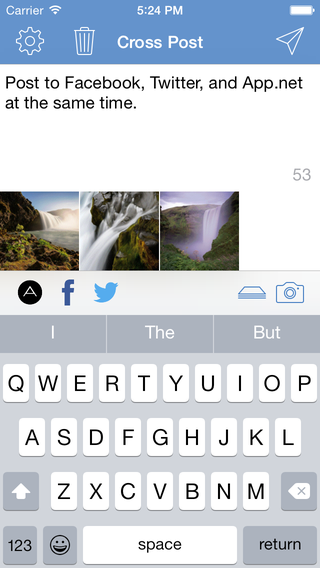 I am thrilled to announce the release of Cross Post, a new app for iPhone and iPad that makes it simple to share your post, photos, and links to Facebook, Twitter, and App.net. I talk in detail why I decided to write Cross Post over on my personal blog site, but long story short, I wanted a better way to share my thoughts and photos across different social media sites. And Cross Post is that better way.
Cross Post is free to download and use, but it has limits. You can post to only one social media site at a time using the free version. This gives you a chance to try out Cross Post without spending a cent. If you decide Cross Post is right for you and you want to post to multiple social media sites at the same time, then unlock everything the app has to offer for just $2.99.
What are you waiting for? Download Cross Post from the App Store now.